Online Course & Starter Kit for academic mastery
The Effortless Academic's Manual
The most important part of research is creativity, understanding and memory.Not learning these skills is like driving a car, but never learning traffic rules or studying a map. You might get into trouble or just take much longer than necessary.This 9-hour online course will make you a better academic:► Become more creative by using connected notes.
► Generate new ideas for your research with tag graphs.
► Step-by-step system from academic notes to publication.
► Learn faster through "Linked Concepts".
► Master Obsidian, to build a "second brain" for your research.
► Learn to use and connect Zotero from Mushtaq Bilal, PhD.
► Get more citations on your papers with Prof. Lennart Nacke.
Who is this for?
Transform your research, if you...
► …are working on your PhD, are a postdoc or beyond.
► …haven't developed a system yet to generate novel ideas
► …this "hole in the literature" keeps eluding you
► …overwhelmed by information overload in the field
► …keep forgetting things you read recently
► …feel ambitious to excel in your field of research
► …are curious about new software, but like it simple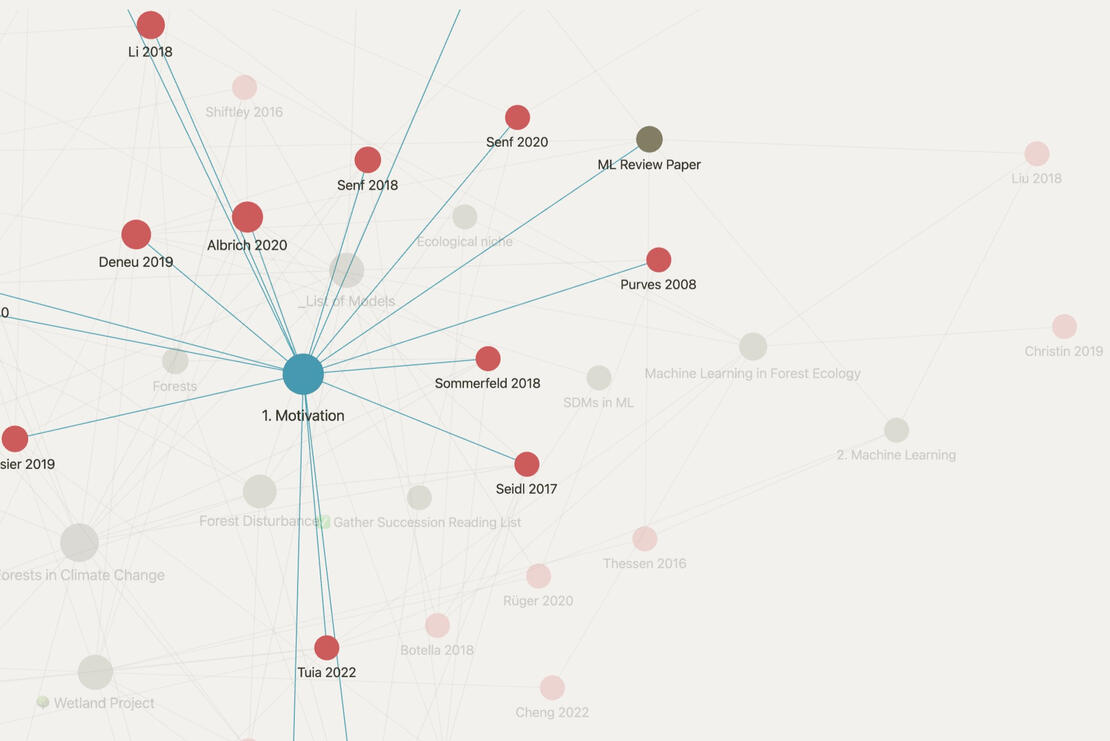 Surprisingly the solution to all these problems can be found in using a straight-forward system of note taking and a software that enables it.The system you will learn in this course is streamlined towards knowledge synthesis. This is the skill to create new knowledge out of existing facts. We will be using a powerful but free software to accomplish this: Obsidian.
What's in it?
Step-by-Step guidance
► ~8 hours of curated, annotated recording with clear instructions
► ~20.000 words of in-depth notes on topics and tools.
► Based on webinar with 200 academics and their challenges
► Zero-to-Hero interactive tutorial to learn necessary software
► Receive a "starter kit", to learn by example and go deeper
► Access to a private discord chat, to ask me anything afterwards
► All software used is free and available on Mac or PC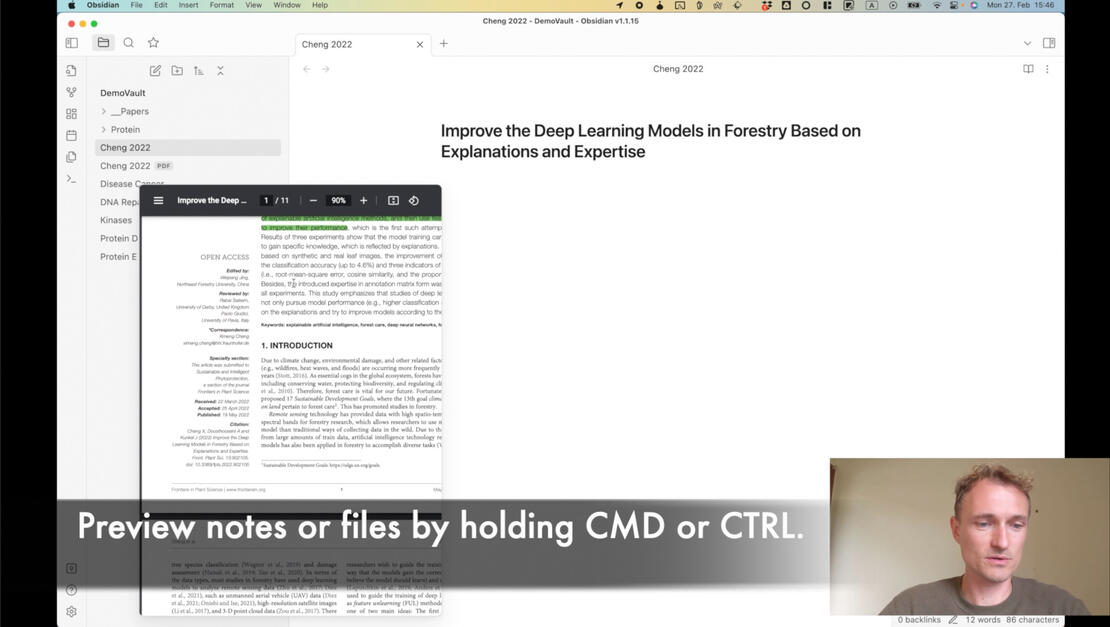 The course contains more than 8hr of video recording along with countless annotations, screenshots, links and explanations (~20.000 words in total). It will allow you to replicate the workflows and solutions presented.Download the full table of contents.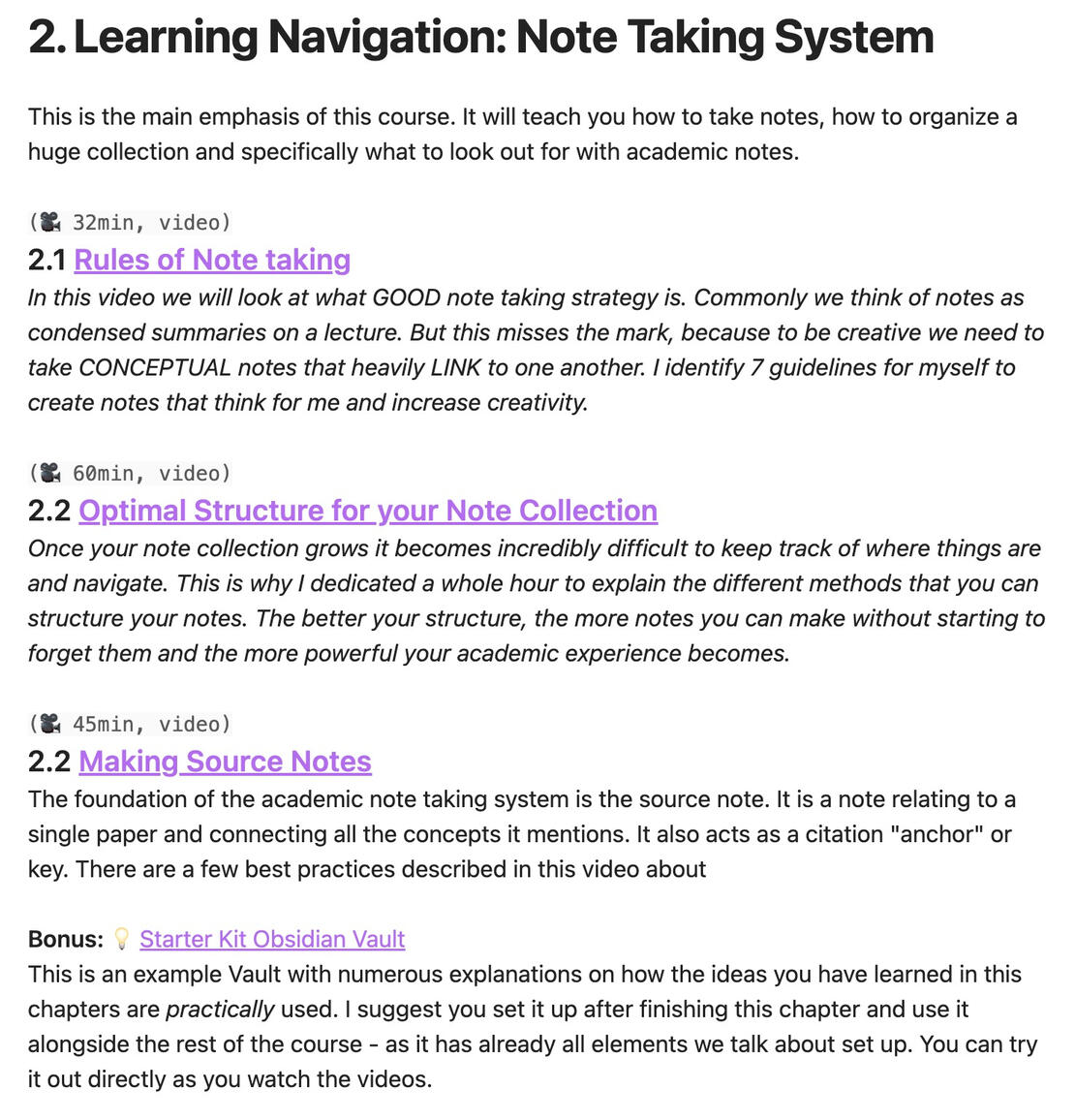 The starter kit is another gem of this course:
It contains examples, mind maps, PDFs and much more to see the system we are learning in real-life examples.As part of the course you will receive ready to use templates and setups for your academic journey.
Interviews with Experts
Interviews with Experts
Professor Lennart Nacke speaks about his strategy that got his papers 28.000 citations. In this hour long interview you will learn:► How to pick a journal
► How to increase chances of acceptance in high impact journals.
► Writing strategies for students.
► How to increase your employability as an academic.
► How the academic systems works from within.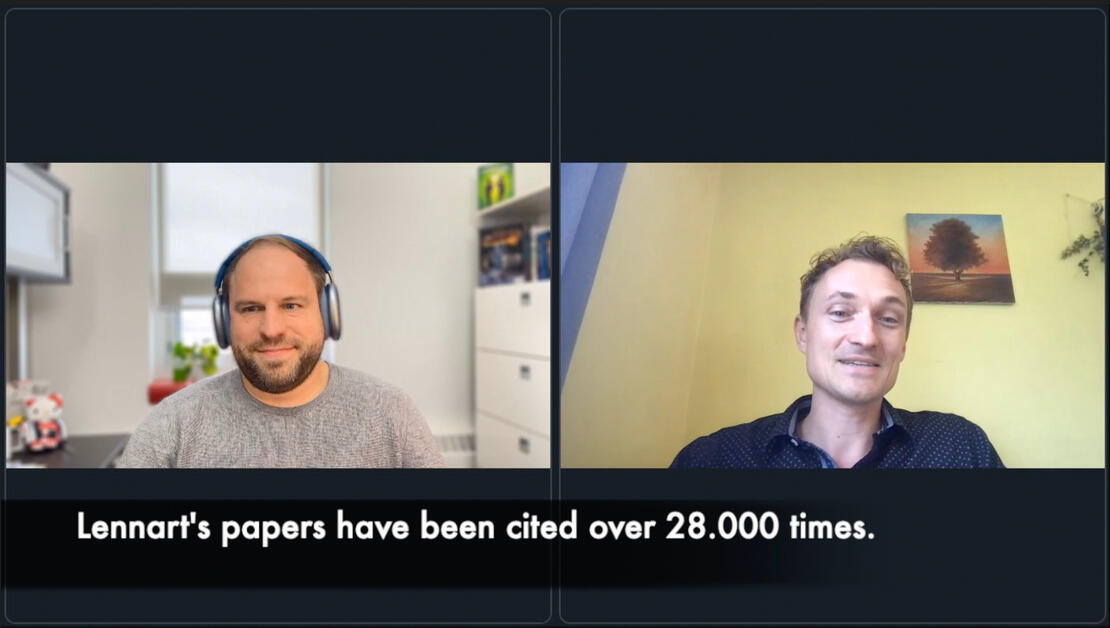 Dr Mushtaq Bilal is one of the foremost experts on using AI in academia and the use of Zotero. His workshops and tweets reach millions. We met for an hour to discuss a few topics and show you:► How to use Zotero properly
► How to write with the help of Zotero
► Start writing with the Zero Drafting Strategy
► How AI can improve your writing in the future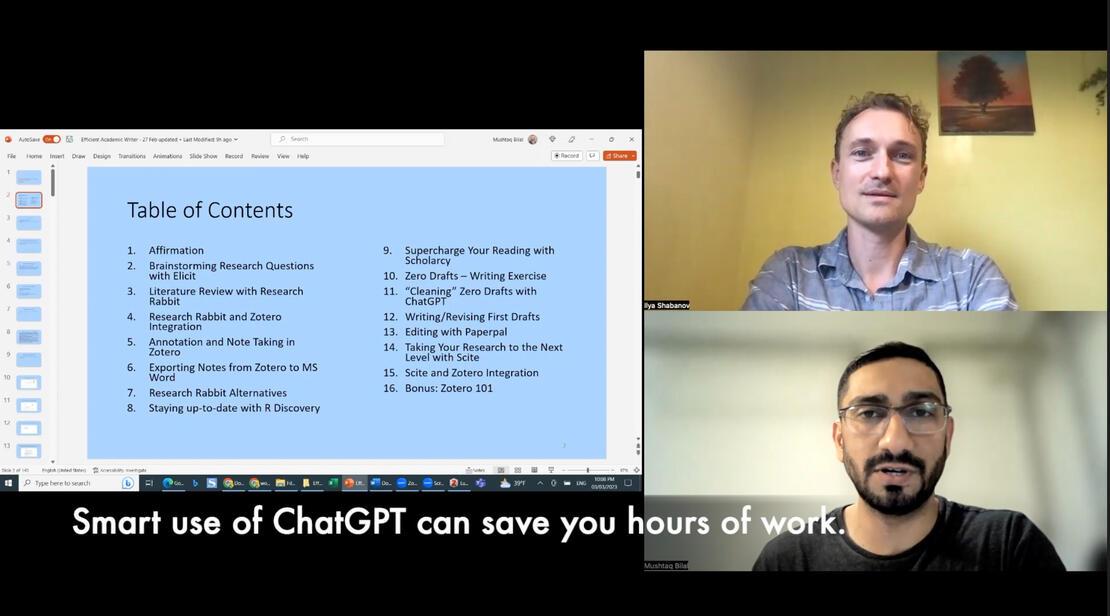 Testimonials
What others are saying
❝I really appreciate your workshop. It is rare to see the combination of (1) actual substance; (2) practical tips, but at a decent speed; (3) understandable explanations and (4) so much structure.I imagine that you either spent a great deal of time preparing this workflow or you must be a talented teacher.Either way, the workshop gave about 6 times the value I was expecting for the price it was (no, I do not suggest you increase the price, I suggest you organise more at the same affordable level ;) )Truly big thanks!❞
PhD cand Julija Jerneva, University of Latvia
---
❝A detailed, honest and fair review of both Obsidian and its strenghts and weaknesses (such as tables) as well as his personal note taking system which was great.Highlights for me were the inegration with Zotero as well as with Paperpile.Also enjoyed the breaks in between to answer questions so that people who are less familair with dedicated note taking system like Obsidian can ask questions and better understand how it may be used in their specific circumstance.❞
Jayron Habibe, PhD student, Amsterdam University Medical Center location AMC (Founder of The Struggling Scientists Podcast)
---
❝I must say it was a truly informative experience. Ilya very well discussed and demonstrated how note taking is a very important skill that is often underrated in academia.Obsidian makes it easy to create lucid and detailed notes that are organized in a manner that makes it easy to form connections about the topics.
Obsidian's unique feature of knowledge management through visual graph really impressed me. The way the tool integrates these features makes it effortless to visualize the relationships between different pieces of information.I highly recommend it to anyone who is looking to improve their note-taking skills.❞
Aarsh Dabhi, PhD Candidate, Kasturba Medical College, Manipal, MAHE, India
Build a Second Brain with Obsidian
Never Forget What You Read
If you have been taking notes loosely as Word Documents, Paper, PDF Annotations or Emails you have probably experienced the frustration of just trying to find your notes.In this course we will learn to use Obsidian. A single software to gather notes, references, lab diaries and tasks. The result is bigger than the sum of its parts.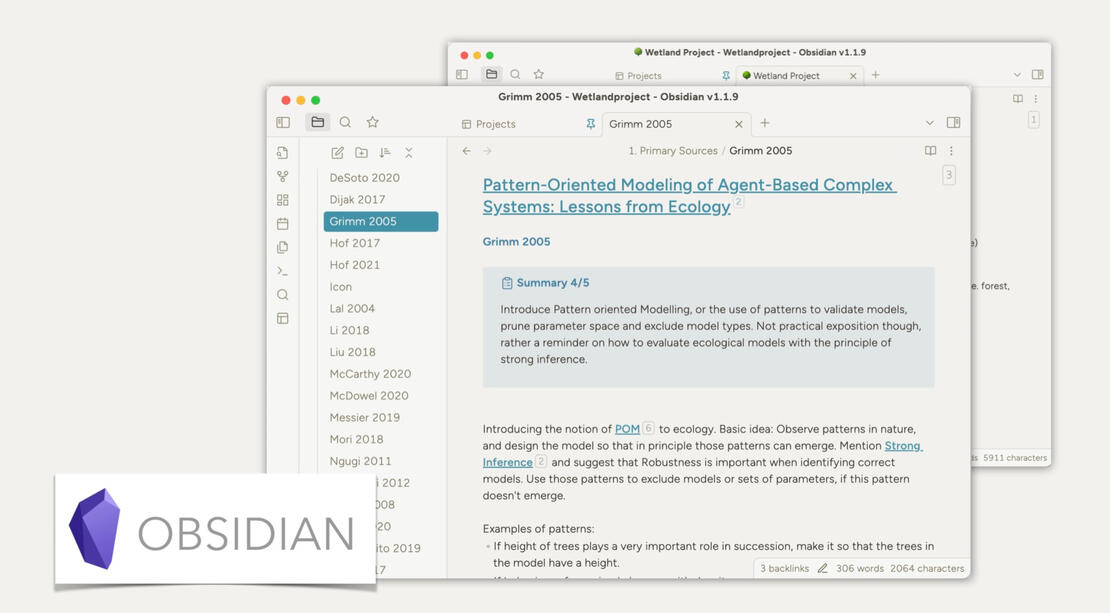 Obsidian allows you to:► Globally search through ALL notes in milliseconds.
► Link notes together and jump topics quickly.
► Embed your PDFs, to see them instantly along the notes.
► Think visually by creating mind maps from your notes.
► Connect tools like Zotero or even integrate ChatGPT.While it might sound complicated, it really isn't.After trying out a numerous tools I found Obsidian to be mature enough and simple enough. You won't miss any features, but you won't be overwhelmed either.
A System for your notes
Create Ideas on Autopilot
Reading & highlighting will get you only as far as talent goes. But talent isn't enough, we need a recipe for new ideas.A new idea is often a new connection. "Let's use this technique with this problem". Creativity is connection.This system uses tagging to create connections and Obsidian's graph feature to discover them. The results will surprise you.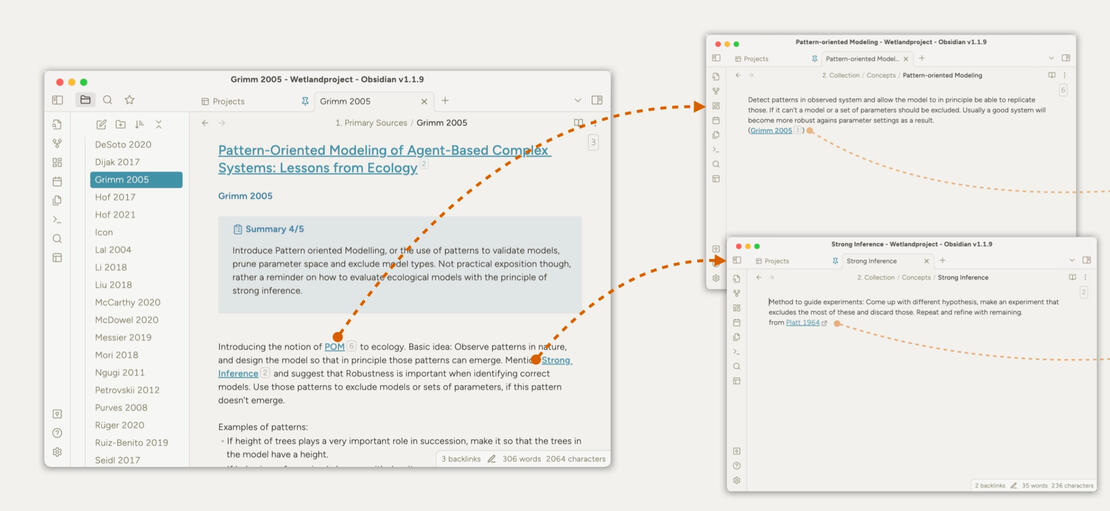 Your brain is not a database – it's a network, that's why it works.The best analogy is that of doing math on paper. If nobody told you how to do math on paper, you would struggle to add big numbers together. e.g. 294772 + 1837462 = ?But on paper the problem gets reduced to small steps: 2+2, 7+6 ... You use your mind in a much more productive way. The tagging and graphs system is a similar strategy but for IDEAS not math.
A REAL Reference Manager
The Power of Thinking Visually
Memory artists use spatial cues to memorise large amounts of information.We are going to apply this technique using Obsidian to never forget literature anymore.Curious how it looks?Here's a preview:
The best thing about it? We can do all of that with the same software, Obsidian.Your notes, references, mind maps and much more - blend into an academic operating system.Yet it's as minimalist as it gets and you will learn it effortlessly and quickly.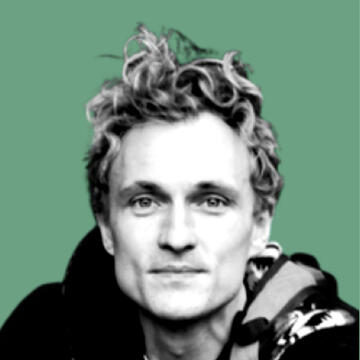 Meet your instructor
Ilya Shabanov, MSc
Not your average scientist. I spent 12 years in industry, co-founded a brain training startup NeuroNation ran a web design firm and only at 36 decided to do a PhD in biology.At this point I didn't know much about biology - yet 6 months later I had a paper in peer review and a glowing recommendation from my supervisor:

My secret to learning very fast is not talent.It's "Knowledge Management", something I did routinely as a CEO.You and I play chess with the same pieces, right? But who wins? The person with a better strategy - continuously & predictably. Research is not different.Yet has anyone ever taught you a strategy on how to "do science"? If you're lucky, your supervisor can show you a thing or two, sadly most won't even have the time.I decided to change that and in December 2022 launched a Twitter account to showcase some of the techniques that helped me.After less than 3 months almost 10.000 people follow me and my workshops have been visited by more than 600 participants."The Effortless Academic's Manual" is the result of 500+ hours of experimenting with different tools combined with the feedback from hundreds of academics.It will teach you a precise system of how to go from a pile of PDFs to a clean outline of your work, effortlessly.